Hello!
Below is our holiday order schedule…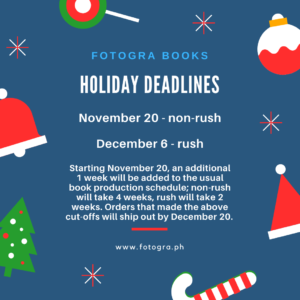 Due to the influx of holiday orders, we are currently a few days delayed already in book production. Come November 20, an additional 1 week will be added to the usual 3-week (non-rush) or 1 week (rush) book production time.
Orders that make the November 20 (non-rush) and December 6 (rush) cut-offs (meaning paid and photos have been sent by the said dates), shall ship out by December 20. For Metro Manila orders, we highly suggest having your orders picked up or avail of the expedited shipping.
Rush service will be suspended from December 7 to 20.